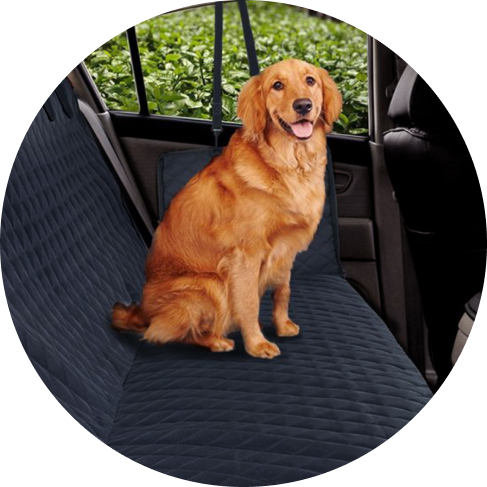 Comfort + protection comes hand in hand for your pooch
When it's family time, it's also dog time. If you have a dog (or multiple dogs), you're probably all too familiar with bringing your beloved friends along for the ride in the car. But as much fun it is to bring your dogs along for beach trips, hikes, or road trips, the cleanup absolutely sucks, especially if you don't have the right protection for your seats.
No more scratches
or dog hair
Our Dog Seat Cover helps you keep your backseats covered with this snap-and-go seat cover that protects your vehicle from dog hair, scratches, and drool.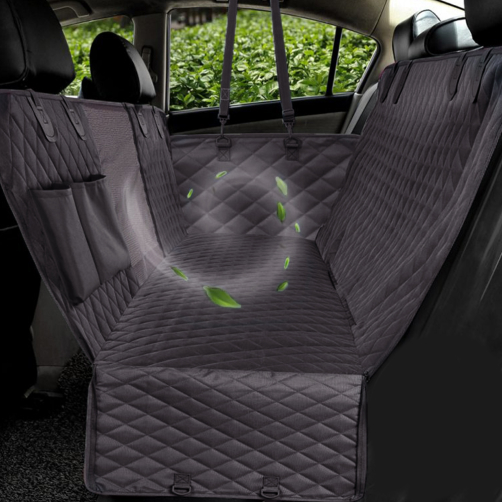 A cushy fit for a king
(or queen)
Our seat cover is designed with care, for multiple layers of love. Built with a waterproof coating, 600D polyester Oxford fabric, thermoplastic polyurethane, soft cotton, and a non-slip net, your pooch can lounge in supreme comfort, whether it's hours on the road or just a couple of minutes. The hammock-like design features quilt-stitch detail and is super breathable, making it great for any type of weather.
Dog Car Seat Cover specifications
Extra storage for extra convenience
Two built-in pockets are featured on the seatback covers for your two front seats, allowing you to store your pet's essentials like a leash or snacks.
Perfect size
Our Dog Car Seat Cover is suitable for most cars. Watch the dimensions: 60.1″ high and 85.4″ wide. So that you can install it on the backseat and have no worries about your pet comfort.
Snap + anchor
No slipping or sliding here (unless your dog is dancing with joy for your trip). Hard-working seat anchors and snap buckles keep the canvas of the seat cover securely in place so it won't budge with every twist and turn of the car.
Easy to remove,clean,
and store
Once the trip is over, simply unbuckle the seat cover from your car seat head hooks.
You can safely vacuum the seat cover fabric, hand wash it, or even throw it into the washing machine. Once the seat cover is dry, simply fold it up and store away. All the seat anchors double as handles for easy carrying.